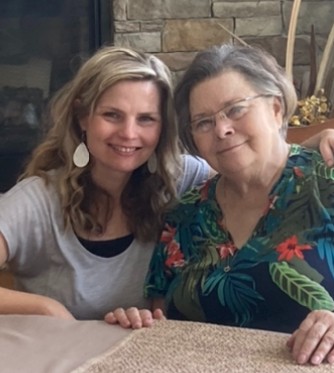 Wellthy member Shanna is no stranger to the intricacies of caregiving. Her story weaves two threads of care that she navigates side-by-side: looking after her widowed mother, and raising three neurodiverse children. Shanna is a member of the proverbial "sandwich generation," juggling the responsibilities of care for an aging parent alongside care for children.

Care support and planning for her mom
Shanna's mother lives alone on an 80-acre farm, a passion project of Shanna's late father. However, maintaining the vast property has become a laborious task for her mother. After a severe health scare — where Shanna had to take a leave from work to attend to her mother's needs in intensive care — Shanna recognized the impending need for additional caregiving support. Shanna's fear of something happening to her mom, coupled with the six-hour drive that separates them, prompted her to plan for the future.
"My mom's hospitalization was a wakeup call. She is a very private person and it turned out there was a lot we hadn't openly discussed. Had my mom passed away then, I would've been lost."
Shanna discovered Wellthy through her employer and opened a Care Project to ask questions and understand what she should do to best take care of her mom — even if her mother was resistant to getting caregiving support. For so many families, not planning ahead for potential caregiving needs can end up sowing chaos or crisis. Yet taking a few simple steps and making a care plan can make sure families are prepared whenever a crisis occurs — something that's particularly important whenever family members live several hours away from their loved ones.

A tireless advocate for her children
On top of the caregiving support and planning for her mom, Shanna is also a fierce advocate for her three neurodiverse children. Shanna recognized when her daughter was in elementary school that she was falling behind and in need of an Individualized Education Plan (IEP). She faced significant challenges when her daughter's school failed to recognize her learning needs. Armed with test scores and determination, she successfully pushed for her daughter's IEP, beginning in the fourth grade and continuing through high school.


"I think many parents silently question what level of support that their child needs. I just don't think that every school system is equipped to inform parents of what their rights are as far as supporting learning needs. What should have been a resource for me became an obstacle to getting my daughter the care she needed."
To find the right care support amidst all the responsibilities Shanna was juggling, she turned to her workplace, where she participates in an Employee Resource Group (ERG) dedicated to parents and caregivers. This ERG has become a real source of strength, community, and connection for Shanna — allowing her to connect with others facing similar circumstances and care challenges. It's been such a helpful community, in addition to the support Shanna gets from her personal care circle of friends and neighbors — as well as her husband, who has helped manage responsibilities at home during moments when Shanna needs to be there for her own mother.

Personal health, well-being, and advice
For Shanna, self-care is also an integral part of her caregiving journey. During her mother's two-week hospitalization, Shanna was running on adrenaline and not getting adequate rest. She started taking some small steps to make more time for herself, like visiting a friend for a meal who lived closeby. She leaned on her husband, who drove her the six-hour trip to be with her mother and accompanied her throughout the ordeal. In those travels, they discovered a new fast-food restaurant that became a place to refuel and relax.


"It was very difficult to sleep during that entire hospital experience. I probably slept about an hour a night, but my body wouldn't settle down, so I tossed and turned most nights. I was just on adrenaline, and had to make sure I was eating and staying hydrated so I wouldn't collapse."
Shanna's advice to other caregivers stems from the lessons she's learned along her journey: try to build a care circle of family and friends who can be a support system, and start communicating with these folks about caregiving challenges.

Shanna also emphasizes the importance of understanding your rights and benefits within your employment situation. Employer-sponsored programs and benefits (like Wellthy) can offer crucial support during times of intense caregiving, and yet for so many going through caregiving journeys, they don't always access the full scope of their benefits.
---
If you want more information on Wellthy Community, check out this post. And for more information on how Wellthy helps families navigate end of life and loss, read more here.