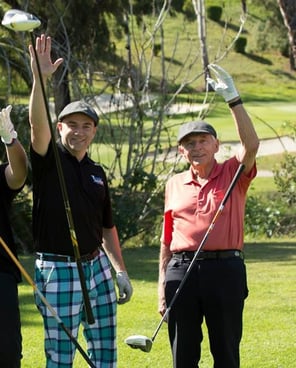 For Wellthy member Chris, the past year was an intense journey of navigating the complex reality of caregiving and managing the loss of his dad.
From being a source of support and comfort as his father's health declined, to eventually taking on the role of a primary caregiver, Chris stepped into a world of responsibilities that demanded so much: patience, empathy, and the ability to balance care for his dad alongside work and many other life responsibilities. These challenges got even more acute as his father's health further declined, and Chris needed to make more frequent visits from his home in Austin to Houston, where his dad lived.

As Chris was trying to navigate what felt like an overwhelming situation, he found solace and guidance in Wellthy Community, our online platform for members that offers advice, resources, and support for caregivers. Wellthy Community served as a guiding light, offering Chris practical advice, checklists, and a sense of comfort in knowing he wasn't alone in his journey. Chris also leaned on his Wellthy Care Coordinator to find various doctors as well as a home health care agency where his father could be comfortable during his final weeks.

One lesson Chris shared in reflecting about his caregiving journey is that patience with his father was a challenge — but one that got better over time as Chris worked to ensure his father had the care support needed during this difficult time.
"One of the toughest challenges for me was exercising patience and empathy — trying to put myself in my dad's shoes and understand what challenges he was going through," Chris said. "He was a literal rocket scientist in his career, but would have trouble with things we often take for granted like using our phones or computers. I always joked with him, 'It's not rocket science,' which he never quite appreciated. We butted heads a little over what we each thought was best for him, but got better at it over time."
Chris's father had always wanted to age in his own home — a wish Chris did his utmost to honor. Chris ensured that his father had around-the-clock care by working closely with his brother (who lives in California so he could mostly only help from a distance) and a family friend. That network of family and friends would prove to be a pivotal support system for Chris as his father's health worsened.

Chris's father passed away earlier this year in April 2023, and with his passing also came the realization that the process of caregiving continues long after the passing of a loved one. Chris found himself dealing with administrative and financial matters, including managing mountains of paperwork.

Yet, amid such an emotional and fraught moment, Chris appreciated his father's organizational skills, which proved to be a help while handling his affairs. Chris continued to lean on Wellthy after his father's passing, using his Care Coordinator for guidance on end-of-life matters. His Care Coordinator even found him a grief counselor to help him through this time.

Looking back on his journey, Chris stressed the importance of self-care for caregivers. He realized that taking time for oneself did not diminish the quality of care provided to his father, and in fact maintaining a healthy balance between caregiving responsibilities and personal life was vital for his well-being. Chris was able to find solace in personal hobbies like practicing guitar and meditation — activities that offered a respite from the stress and emotional turbulence of caregiving.
"Be sure to make time for yourself. At first I felt guilty taking that time away from what could have been spent with my dad. But, even when he was in the hospital, I'd walk down the hall and see how many people were in the hospital beds and didn't have any family, friends, or loved ones by their side. My dad was fortunate to have that the whole time. I'd be there every day," said Chris.

The experience of being his father's primary caregiver showed Chris that caring for a loved one is not a solitary journey, but a complex process that requires an understanding heart, an empathetic mind, and the strength to lean on others for support.
---
If you want more information on Wellthy Community, check out this post. And for more information on how Wellthy helps families navigate end of life and loss, read more here.