With our Care Expert Spotlight series, we're taking a peek into the lives of Wellthy's amazing care professionals. This month we interviewed Azusena Arroyo, a Care Adviser on the Veterans team. Care Advisers are seasoned experts in specific care domains and work behind the scenes to support families with tasks in their specialty area. In addition to Veteran support, Care Advisers make up teams for housing, in-home care, mental health, Medicare and Medicaid, billing, and more.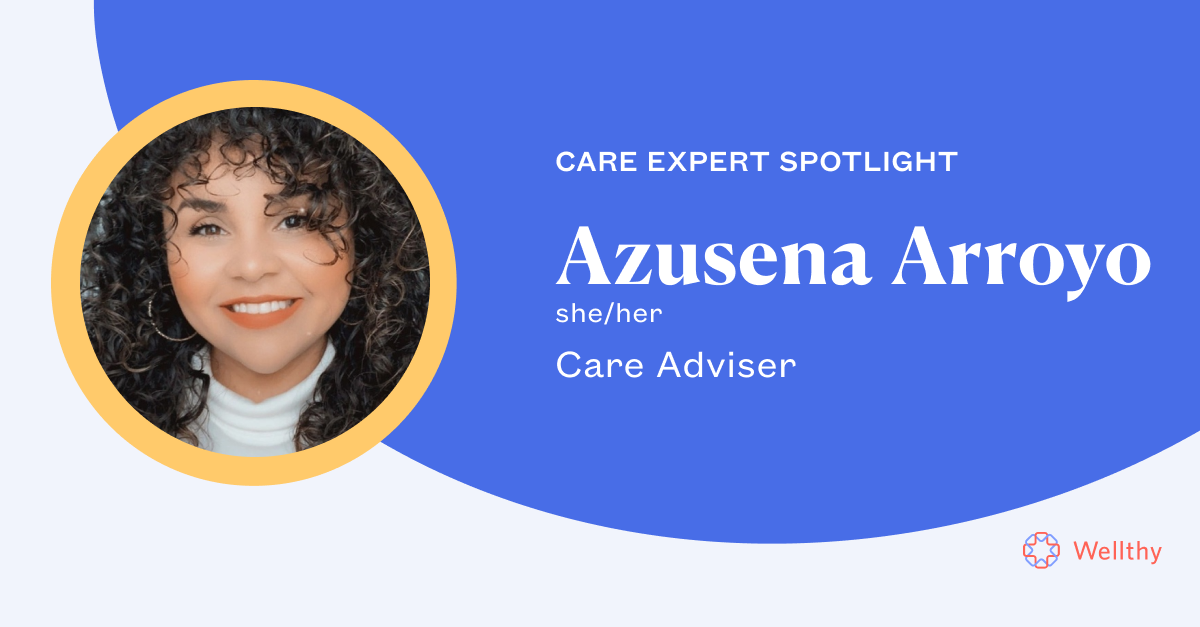 Tell us a little about your role as a Care Adviser
"I work on Wellthy's housing and Veterans team, so I spend most of my days looking for living facilities for families and helping Veterans navigate their benefits. Sometimes when you work with the VA, information isn't as readily available and it's hard to get. So connecting families with people on the ground in their area is a big part of it."
What drew you to Wellthy?
"Personally, I've had my own healthcare needs where I had to dedicate a lot of time to researching different things and navigating the system. The idea of someone having to do this for themselves and then the people that they love seemed like such a challenge, and so being able to provide support for individuals during these times is very fulfilling."
What do you like most about your work as a Care Adviser?
"I really like the aspect of the job where I'm learning about the communities where our members live, understanding the programs or services specific to their city, county or state. Sometimes there are special circumstances or requests that we're looking to meet, and so speaking to people in that community, asking the right questions is really important. I think that's where Wellthy is really unique, that we dive deeper. We try to find those hidden gems, those solutions, that aren't as easily accessible from a Google search."
What is one of the most memorable care tasks you have worked on?
"I needed to locate housing for a mother and her 9 year old boy who were refugees from Ukraine. I completed a search for refugee services and affordable housing complexes, and quickly learned there were very long waitlists. I learned that the local housing authorities were not even accepting new applications. I reached out anyway in hopes there was something they could do. They wanted to help, and we got put at the top of the priority wait list so that they may be the first people to apply for housing opportunities as they became available. This was big for us! I was then redirected to a social services department who could maybe help with emergency housing vouchers, but they also weren't accepting new applications. I spoke to the director anyway, which led to an introduction to the local Ukrainian Orthodox Church who was raising money to help Ukraine refugees and he agreed to connect with the family and offer his help in their immediate housing needs.
Sometimes it takes speaking to several people in the community to find exactly what you need, and I'm very happy we were able to help this family."
What's a fun fact about you that not many people know?
"I come from a family of 14. I'm a first generation college graduate. And I am a very proud daughter of two immigrants from Mexico."
What did you want to be growing up?
"I actually wanted to be a physician's assistant, and I got a public health degree as a way to meet my prerequisites. But in my public health courses I learned about the social contributors to health, and that very much interested me, especially being a Mexican American woman who grew up without a lot of financial privileges. Learning how things like race, socio-economic status, and education can influence your health — now, as an adult, it makes sense of course — but at the time, I couldn't believe it. That just weighed on me so heavily, and so it kind of inspired changes in my life and my career path, and I've been working in the public health field ever since."